Integrated Curriculum Financial Planning or Curriculum Led Financial Planning is being given a greater focus in schools as they begin to respond to the DfE's demand for greater accountability in spending in a tight financial climate. The need to be able to ascertain if resources are being used in the most efficient way and are meeting the planned curriculum is becoming a key requirement for schools, academies and trusts. 
Working with ASCL, we have produced a series of resources which will allow schools, academies and trusts to calculate key financial and curriculum figures by combining data from SIMS and their financial package, including SIMS Finance.
Driven by Power BI, the tools create a report which provide key figures and statistics and quickly allow various parameters to be changed and to see the effect.

How can our tool drive better financial planning?
Provides detailed and insightful reports on your financial data

Reports and dashboards can be designed to meet the specific needs of your school or trust

Drill down into the detail at the click of a mouse

The tools we're providing are free of charge - the only cost is for the initial Power BI licence

We can help you get the most out of the tools with a consultancy package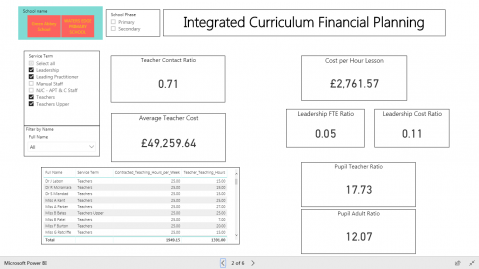 Why the need for Integrated Curriculum Financial Planning?
The DfE is asking searching questions of schools, academies and trusts about how efficiently they are using the limited resources which are available.  These questions are summarised here in a list of questions for governors, and they have also produced a tool by which schools schools can manually enter key figures and obtain a rating as to their financial health, based on a set of calculations detailed here.
Try out the dashboards for yourself
Use the links below to take you to interactive demonstration dashboards
Build your own dashboards