SIMS Assessment provides flexibility with assessment and reporting in a way that supports your school and the way you work.
Teachers can see an individual's progress historically or live as they enter their assessments. Quick access to this information means that timely interventions can be introduced to support pupil progress or help them to achieve even more. 
With SIMS, you can be sure that every pupil's progress is tracked and recorded, helping to raise attainment right across your school.
Tracks progress throughout every child's education
Teachers can record and monitor the progress of pupils throughout their learning journey across all areas of education. The Programmes of Study screen within SIMS Assessment allows you to track progress against your curriculum, and schools can create their own marksheets, tracking grids and calculations.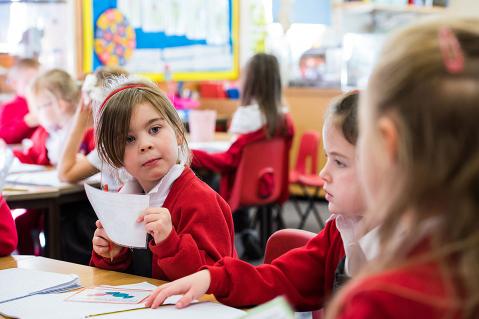 Adapts to reflect your own curriculum
Schools can adapt the Programmes of Study screen to support the specific needs of their school and align it with their own assessment policy. Additional subjects, strands or statements can be created. Any newly created resource will automatically link to the pre-defined analysis and reports.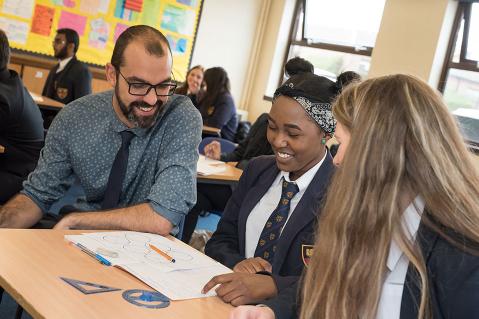 Helps every child to succeed
See which stage of your curriculum a pupil is working within by easily recording ongoing formative assessments and providing summative judgements at termly or half termly intervals. Highlight what pupils know, and don't yet know, and understand the outcomes, regardless of your assessment model. Help pupils to understand where they excel and identify key areas for development by sharing pupil strengths and the next steps comments recorded.
Instant progress and attainment analysis for individuals and groups
Instant analysis is displayed on the SIMS Assessment data entry screen, so teachers always have sight of an individual's progress with regard to end of year or school expectations. Filter pupil groups and review their attainment to help highlight gaps or identify where interventions may be needed. Teach the curriculum however you choose and let SIMS provide the analysis you need.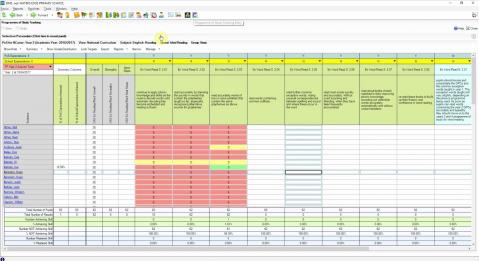 In-depth analysis via SIMS Discover
Several types of SIMS Discover graphs link to SIMS Assessment resources for more visual analysis. These graphs allow quick analysis against other measures such as attendance or behaviour, and can compare in-depth performance of key groups or classes.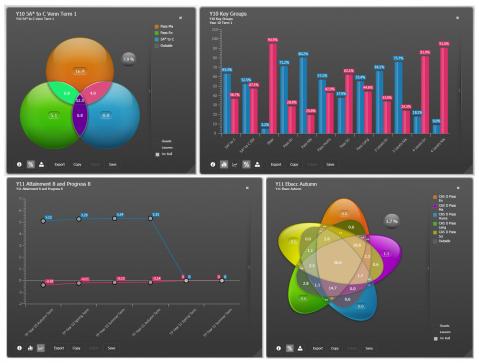 Accessible on the go
Staff can access the whole of SIMS Assessment wherever there is an internet connection through SIMS Connected. Alternatively marksheets and Programmes of Study are included in the SIMS Teacher app, providing a streamlined view for efficient data entry and supporting in-class teacher practices. This allows teachers to record achievements as they are observed. On-screen analysis also provides instant feedback on achievement, raising awareness and promoting accountability.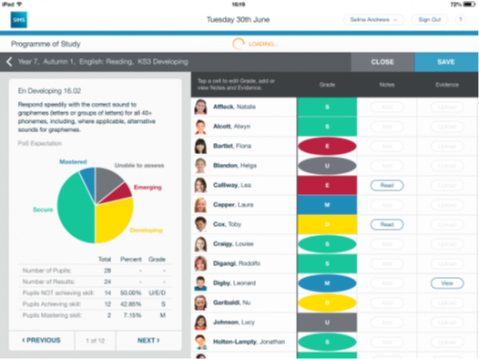 How SIMS Assessment helps
Teachers
Record formative or summative achievement and receive instant analysis on the same screen to help monitor student performance efficiently - all in one place in SIMS.
Senior leaders
Identify what pupils across the school know and don't yet know. Analyse progress and identify trends to see if pupils need extra support or encouragement to reach higher levels of attainment, regardless of age or ability.
Parents and pupils
Teachers have easy access to individual pupil reports which they can share with parents so they can find out how their child is progressing. Pupils can easily understand their strengths and next steps.
SIMS Assessment screenshots
A year ago we thought – assessment without levels, what on earth will that be like? But now we know, and we feel really confident using SIMS Assessment.

Jayne Mullane, Headteacher, Mersey Vale Primary School
We are using SIMS Assessment to help us track pupil progress as we move away from levels. Not only do the new screens show the DfE's statutory programmes of study, they are accessible for the whole school team.

Rosie Simmonds, Headteacher, Leverington Primary Academy