Schools are increasingly using electronic documents in day-to-day administration and communication yet these items often reside on user PCs and in complex folders rather than being managed by the SIMS file plan.
RECORDLINKwriter by Cohesion Software allows SIMS users to quickly and easily save their Microsoft Office documents to SIMS where they become organised, network accessible and part of the school's disaster recovery plan.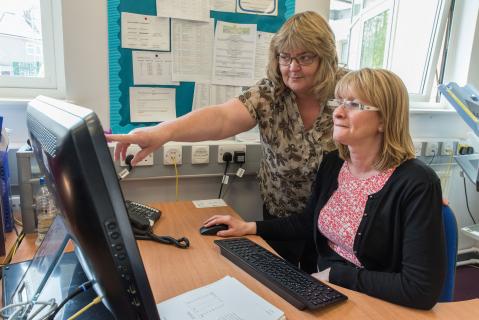 Why choose RECORDLINKwriter?
Effectively manage your documents

Organise and distribute documents more effectively and securely.

Improve the quality of your information

Improve information quality in the SIMS pupil record.

Save money

Reduce archive and administration costs and also reduce paper usage and associated costs.

Engage with parents

Make documents available for online reporting to parents as required.

Mitigate increasing email traffic

As documentation can be saved into SIMS, you can reduce the amount of information being sent via email.

Back up your files

Documents are included in the daily SIMS back-up, which are added to the school disaster recovery programme.
Download the RECORDLINKwriter brochure or sign up for a free trial
RECORDLINKwriter features
Simple functionality

You are guided by a logical wizard to save or open documents to and from SIMS. The interface reflects SIMS with the look and feel.

Easy retrieval

Documents are saved to SIMS and appear in the student record as usual for normal use or with RECORDLINK products.

Save documents to multiple pupil records

Documents can be saved to single or multiple pupil records using bespoke lists of pupils, user defined groups, academic class or year group and more.

Create database entries on the fly

Database entries such as behaviours, achievements and medical conditions can be created without the need to log in to SIMS.

Apply to all

Where files are saved to multiple pupil records, you can also create multiple database entries using the 'apply to all' feature.

SIMS permissions apply

RECORDLINKwriter reads user permissions from SIMS so users have identical permissions without additional IT burden.

Easy install and management

RECORDLINKmanager installs on SIMS server, RECORDLINKwriter on user PCs running SIMS client. Annual licenses include all updates in the event of changes to SIMS.

Knowledge base

There is a fully interactive forum and comprehensive set of FAQs on the Cohesion website.

Add to school disaster recovery programme

Add more documents to the disaster recovery archive.