An end-to-end recruitment system from vacancy creation to final offer and onboarding
FACE-Ed is applicant tracking and vetting software, developed specifically for Education. Within FACE-Ed you can build recruitment campaigns, shortlist, request references and track all required vetting checks (e.g. DBS checks, Right to Work, QTS, ID, Prohibition, Online checks etc.) to ensure safe and secure recruitment in line with Keeping Children Safe in Education and Safer Recruitment guidelines. 
Benefit from FACE-Ed's integration with SAMpeople allowing for the onboarding process of a new employee to be a smooth transition. Documents collected in the hiring process within FACE-Ed can be migrated to the employee profile within SAMpeople and kept in one place with two-way integration from SIMS to remove duplication, saving admin time and improving efficiency.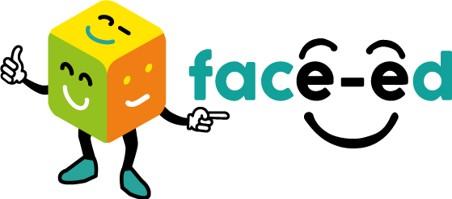 MAT/School Vacancy Approval Process
Trusts can keep track of all their school vacancies and ensure budget and operational approval is given before posts are filled.
Customise and automate your Vacancy Approval Request Form and approval workflow ensuring budget and operational compliance of all your recruitment needs.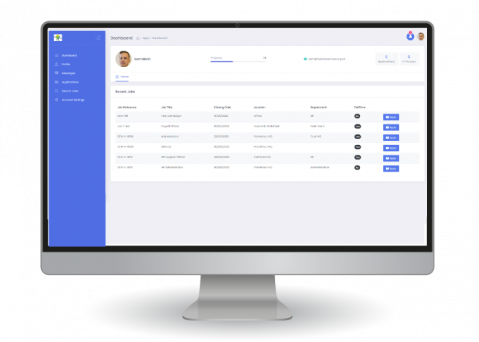 Vacancy page hosting and Job distribution
Manage job vacancies directly from within the platform. Easily create campaigns by uploading and editing documents stored in your library of templates (e.g., job adverts, job descriptions, person specifications, recruitment packs).
Post vacancies to your website and social channels in one action. Jobs can be automatically pushed to the Department for Education Teaching Vacancies website. Partnered with Hiring People (multi job board advertiser) to push jobs to a variety of large recruitment advertising sites such as Indeed, Monster, Total Jobs, Guardian, Reed Distribute jobs, free of charge.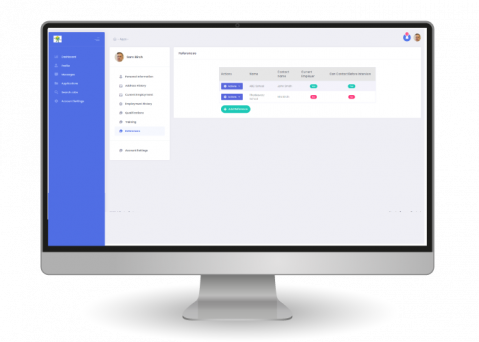 Campaign Management
FACE-Ed makes it easy for candidates to complete a full application form required to meet safer recruitment protocols. All the applications from the various recruitment advertising sites will be pulled into one database and ordered by campaign, helping you to feel more organised and be able to keep a good grip on all aspects of compliance.
Built-in safer recruitment checks help quickly rule out applicants who do not fit your shortlisting criteria. Flag gaps in employment, accessibility/disability requirements, declarations of interest, qualification mismatches..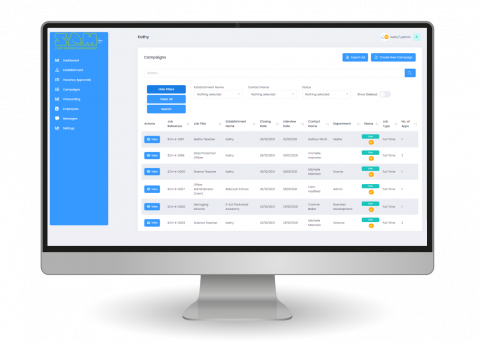 Keeping candidates engaged
Message candidates quickly and easily. Communicate anything you need, ask questions, and invite applicants to interview. Applicants can also message you, helping them to feel more engaged in the recruitment process.
Keeping messages stored in one place against each application also makes it easy to keep on top of communication.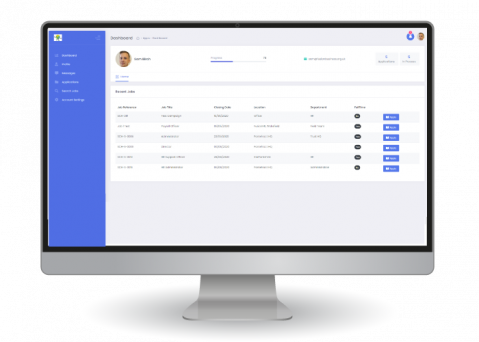 Interviewing and Initial Screening
Ask your shortlisted applicants to start uploading copies of required documentation before their interview (e.g. ID, Right to Work, Qualifications), meaning that time is saved on the interview date itself. FACE-Ed will store this information, and should this person be made an offer of employment, transfer this information to the SCR onboarding tracker.
FACE-Ed flags any issues detected throughout the application process. It also includes default candidate declarations as part of the application, including agreement for online checks.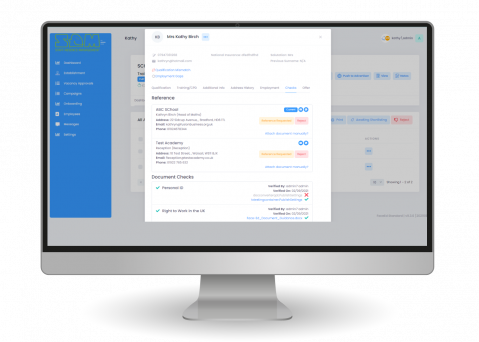 SCR Onboarding and Vetting Checks
Pre-upload onboarding pack which may include letters to welcome your new employee and introduce them to your Trust/school, the conditional offer of employment, induction pack, personal details form, bank details form, safeguarding information and pension information etc.
FACE-Ed ensures compliance with your Single Central Register requirements and maintains a track of all the associated vetting checks (e.g., Prohibition, DBS, Overseas Teacher, Online checks etc.). In accordance with KCSiE updates, you can now evidence an online search within FACE-Ed and attach any additional documents.